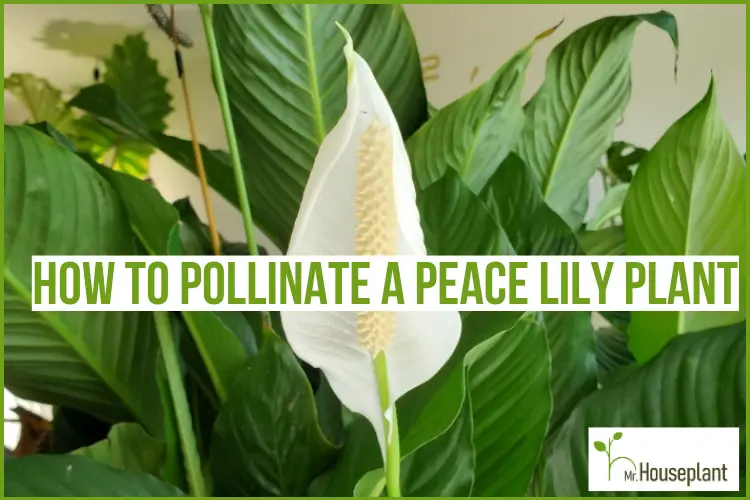 I have pollinated my peace lily several times with success. I haven't found a lot of information online on the topic of peace lily pollination, barely anything, which is why I decided to write this blog post.
The purpose of pollination is to produce seeds. Growing plants from seeds is very exciting. It takes a bit more time and skill, but it's very rewarding growing something from a tiny seed into a large plant, it provides a lot of satisfaction.
Note that plants grown from seeds are not always the same as the original plant. Especially if you cross pollinate different varieties or different species.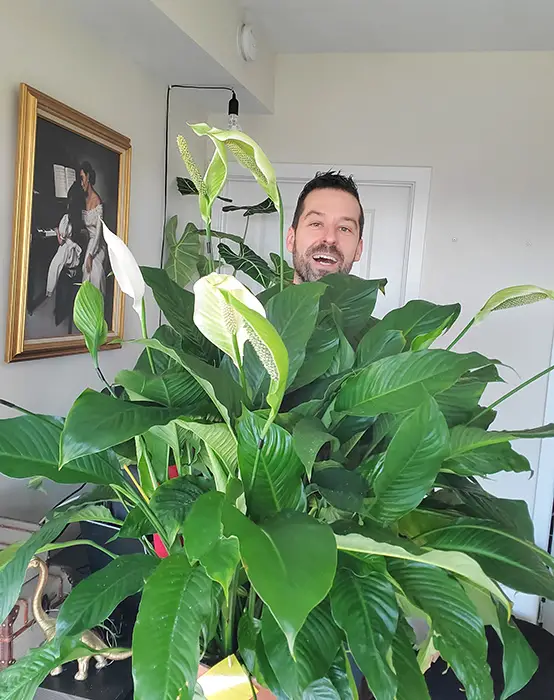 Peace lilies belong to the genus Spathiphyllum. They are excellent houseplants and very low light tolerant. The most common type has dark green leaves contrasting beautifully with the white flowers.
Peace lilies can be propagated easily through asexual/vegetative propagation, such as division. They can also be propagated sexually by using seeds. To do this you have to pollinate them. Pollination in nature is usually done either by insects or wind. However, it is also possible to pollinate them by hand. Let's look at how to do that.
Steps to Pollinate the Peace Lilly Plant
Here are the quick and easy steps to pollinate your peace lily plant.
Flowers have male and female parts. Male parts produce pollen. You need to collect pollen and apply it to the female parts in order for pollination to take place, so that the flowers can produce seeds.
Closely monitor your peace lily to see when it is ready for pollen collection. What people usually call a 'flower', is actually an inflorescence. One inflorescence consists of the outer spathe (white delicate outside cover) and the spadix, which is located inside the spathe and looks like a fleshy spike. Personally, it reminds me of a mace :)  The actual flowers are placed all over the spadix.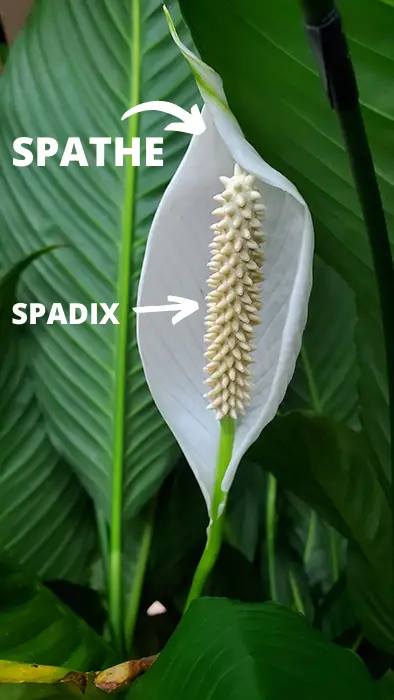 Female parts of the peace lily flowers open first, before pollen is produced. As soon as the spathe starts unfurling, all the female parts on the spadix start maturing simultaneously. After they start dying (turning brown), that's when the plant starts producing pollen.
Which means that you can't pollinate a peace lily if you only have one flower stalk. You need to collect pollen from one flower stalk and then pollinate the next stalk that blooms.
When you notice a flower stalk starting to produce pollen, put a plastic container under the stalk, gently tap it and collect the pollen inside the container. This will usually start happening very quickly after the female parts of the flowers close/start dying/turning brown.
Find a second spathe that is starting to unfurl. When you see it starting to unfurl, you only have about 24 hours before all flowers close and start turning brown. Notice I am referring to individual flowers on the spadix turning brown, not the whole flower stalk. The tiny tips of individual female flower parts will start turning brown. At that point, the pollination window is closed.
The flowers are only viable for pollination for about 24 hours. How can you notice if they are still viable? Look at the tops, they will be fuzzy, like in the following image.
What I like to do is open the spathe right before it unfurls as the female flower parts will already be viable for pollination.
If the female parts are fuzzy, use a soft brush to apply the pollen over the receptive flowers. Try to apply pollen over as many flowers as you can.
After several weeks, the flowers will start swelling, as the seeds are produced. Notice the upper part of the spadix in this photo and how some of the sections are starting to swell. They are the ones producing seeds.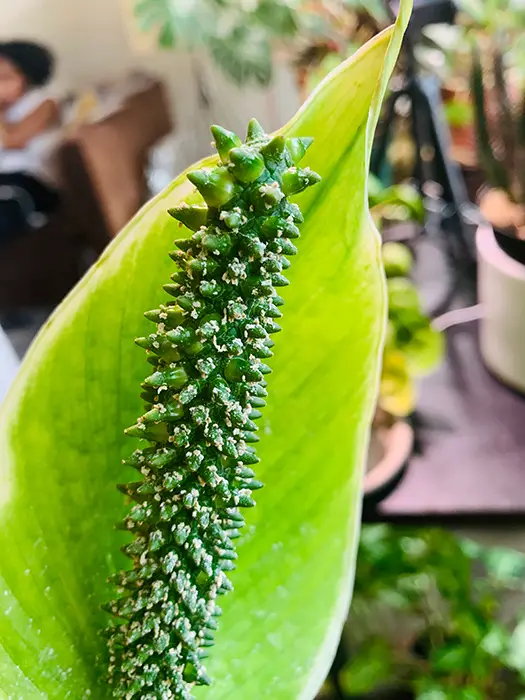 If none of the flowers have been pollinated, the whole flower stalk, starting with the spathe will dry out, like in the following image.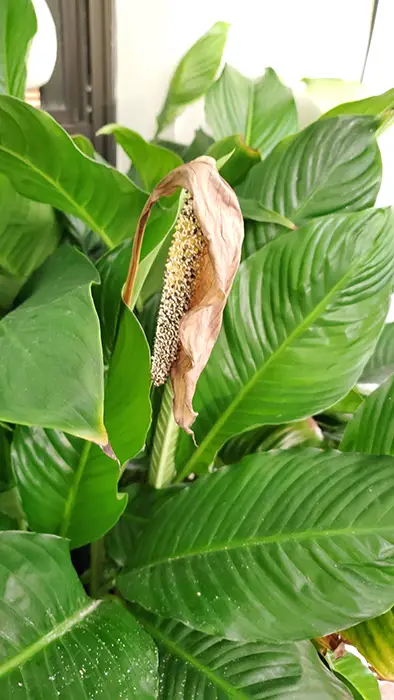 If you successfully pollinated the peace lily, after several weeks the stalk will be full of seeds. This is what the seeds look like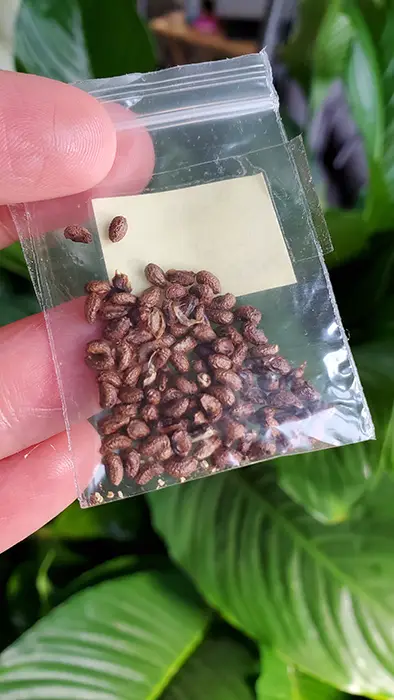 If there are no receptive flowers that you can pollinate, you can keep the pollen in a cool dark place. It should be viable for at least a few weeks. I have used peace lily pollen 3-5 months after I collected it and it was still viable, without refrigeration. But if you plan on keeping it longer than a few weeks, refrigeration would be something to consider, to extend its viability.
If you don't want to do the pollination, but just want to try growing from seeds, you can order some peace lily seeds from my shop.
I hope this was helpful, let me know if you were able to pollinate in the comment section. And here is a video of the whole pollination process.
FAQs About Peace Lilly Pollination
Do Peace Lilies Need To Be Pollinated?
No, Peace Lilies don't need to be pollinated. But if you want to get seeds, you need to pollinate a Peace Lily.
Do Peace Lilies Produce Pollen?
Yes, Peace Lilies produce pollen. In order to produce pollen they need to produce flowers. And they will produce flowers only if they get sufficient light.
How Do I Get My Peace Lily To Bloom?
To get your peace lily to bloom increase the amount of light it's getting. Give it at least 10,000 lux (1,000 foot candles) of light. For more details on how to get a peace lily to bloom, check out the detailed blog post on the topic.
What Do You Do With Peace Lily Seed Pods?
You can harvest Peace Lily seed pods to grow new plants. Harvest the seeds before the flower stalk and seed pods fully dry out, as the seeds will be easier to harvest. Once the seed pods dry out, it takes a bit of effort to extract the seeds.
Can You Start A Peace Lily From Seed?
Yes, you can start a peace lily from seed. To learn how, take a look at the video below: