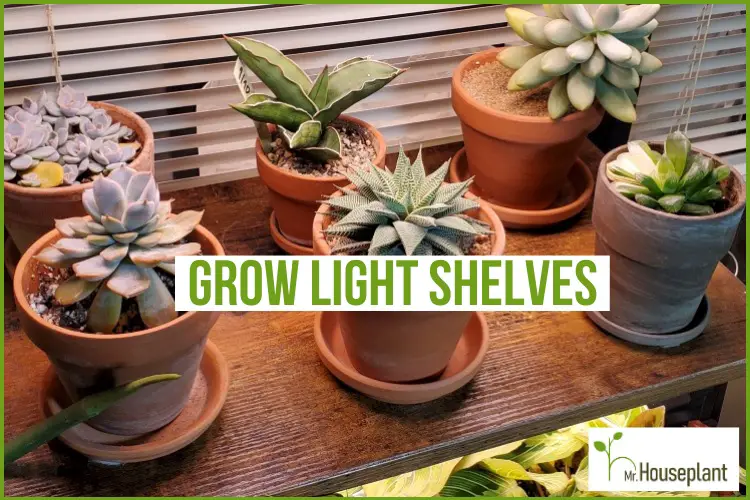 In this article, I will explain everything you need to know about setting up a plant shelf with grow lights. Whether you're already using grow light shelves to help your houseplants thrive indoors year-round but not sure if you did everything right or you haven't gotten to it yet, I'll give you all the details and explain what artificial lights are best to use, what to look for when purchasing a shelf for growing plants, and describe the easiest way to set up a grow light plant shelf yourself.
All of the products and tools I mention here are easy to find (they can be ordered from Amazon or other places), inexpensive, and easy to set up.
Having a grow light plant shelf set up in your apartment provides many benefits:
Natural light is not necessary; you're able to grow plants in dark corners, areas, and/or rooms without any light that is natural.
It enables you to supplement natural light or grow plants exclusively under these artificial lights.
You can save space by fitting many houseplants in a tiny portion of your apartment.
Your houseplants will become stronger and healthier with a good artificial light system.
You can improve the overall look of your home. Besides providing your houseplants with the light they need and making your plants happy, both grow lights and shelves are designed to fit modern interiors, and so can add to the overall design of your space.
What to Look for When Purchasing a Shelf for Growing Plants
When looking to purchase a shelf for your growing houseplants, you will need to decide on a couple of things.
First, you should decide whether you prefer open shelves vs. closed cabinets for your plants. Closed plant cabinets are more convenient if you need to keep your plants away from pets or children, or if you like to keep a certain level of humidity. However, if you tend to use humidifiers in closed cabinets, make sure the cabinets are made of metal or glass, not wood because the wood would get damaged quickly. I prefer open shelves to closed cabinets as I find them visually more appealing. Open shelves are also great because they provide plants with more air circulation which is not the case with closed cabinets.
Then, you should pay attention to the height between the shelves. It's best if you can find shelves with adjustable height both for open shelves and closed cabinets. That way you can have one taller shelf for slightly taller plants and some shorters ones for small plants. As your plants grow taller, you'll be able to raise the shelf to fit the plants. If the shelves are fixed, you might be slightly limited as to which plants you are able to fit.
Whatever you think are the best deals for you, whether open shelves or a cabinet, make sure they are made of sturdy material. Wood, metal, and glass are the most common materials, while wire shelving is the least expensive.

My open grow light shelf
I'm using a Vasagle shelf for my plants, I love the style so much I ended up buying 3 coffee tables as well as a console table in the same style.😊
What Type of a Grow Light You Can Use for a Plant Shelf
When choosing grow light shelves, you will need something that is thin, practically invisible, so it doesn't disturb your home's aesthetics. When it comes to the light itself, I prefer the natural look of full-spectrum lights which are the closest to light that is natural and help plants grow best.
Shelf Grow Light by DOMMIA is a great growth light I wholeheartedly recommend. This led grow light panel is composed of 2 individual light panels connected in a rectangular or square shape. You can install it in a cabinet, under a cabinet, or a grow shelf, like I did.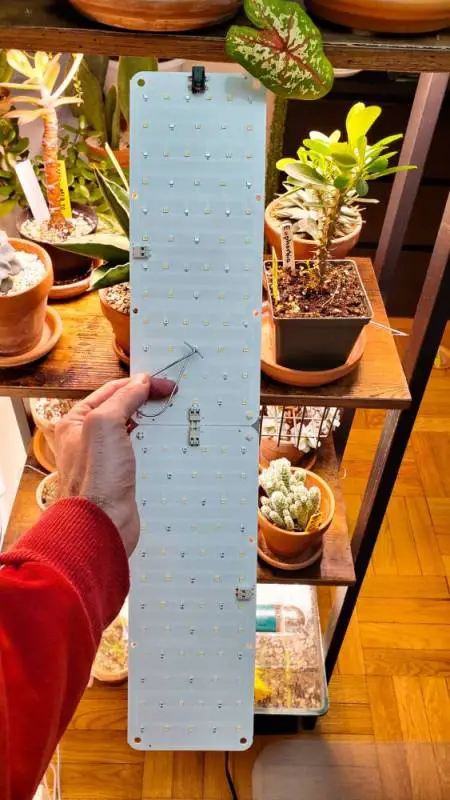 DOMMIA led grow light that I use for my shelves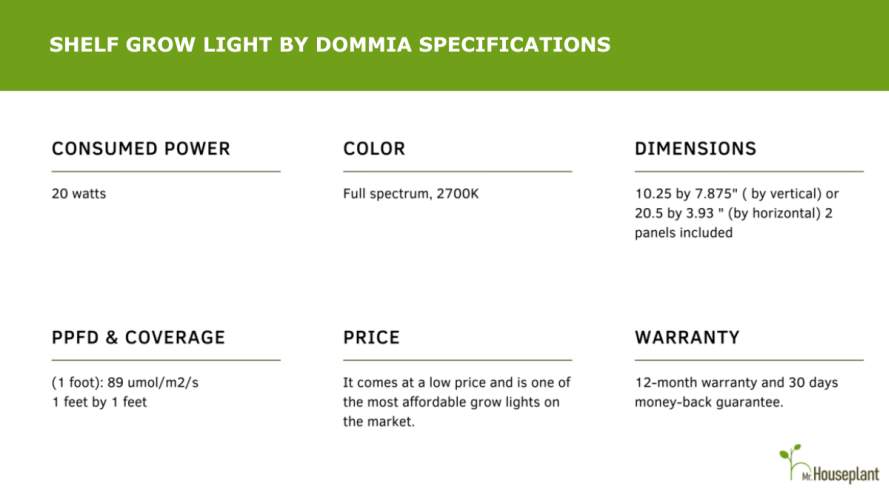 Besides this led grow light, you can also use clamp lights, but most of them cannot provide the needed amount of light, so, in general, they are not the best choice for your plants.
If you're looking for a different type of artificial light, check out my Grow Light Finder. Just type a plant name and get a list of recommendations for excellent grow lights. You can also search by grow light type (standalone, grow bulb, shelf light/strip light, clamp light) or other criteria. If you're worried about your electricity bill, try out the Grow Light Electricity Calculator and check what your bill will look like.
The Easiest Way to Set Up Your Grow Light Shelf
You can choose to purchase a shelf that comes with a pre-installed grow light, but you can also assemble your own. Let me demonstrate how easy it is to turn a regular shelf into a grow light shelf.
To assemble this shelf system, you can use any shelf you have at home and simply repurpose it.
Connect the artificial light. Both panels should be always linked together. If you turn it on the single panel, the light might get damaged because of the bigger current.
Use a clip to attach the light to the shelf. The artificial light comes with a different way to install it, with screws. But I didn't feel like drilling the shelf, so I used these clips.
Attach the light with clips on both sides.
Plug the light in.
Turn on all lights, et voilà!
Optionally, you can add an undershelf storage basket for very small full-sun plants that will keep the plants closer to the light. I sometimes use it for my venus flytraps.
Here's a video of this quick process.
When positioning a led grow light, always make sure it's placed directly above the plants. The light is the strongest directly below the artificial light. As you go towards the edges, the light gets weaker. A good tip would be to keep plants that like a lot of light directly below the light and plants that need less light on the shelf edges.
You can use your grow light plant shelf to supplement natural light or grow plants (and edibles) exclusively under artificial lights, without any light that is natural whatsoever. If you do the latter, make sure to increase the photoperiod (length of time the lights are on) and maybe even reduce the distance between the light and the plants for some of the plants with bright light requirements.
Do You Have More Questions Regarding Setting Up a Grow Light Shelf
I hope I have encouraged you to start putting together your own inexpensive led grow light shelf that will serve you well for growing your houseplants regardless of the amount of natural light in your home.
If you have any additional questions or a particular issue with grow lights or with setting up the shelf grow lights system, don't hesitate to schedule a private consultation session with me. I'm always happy to hear from you and help!