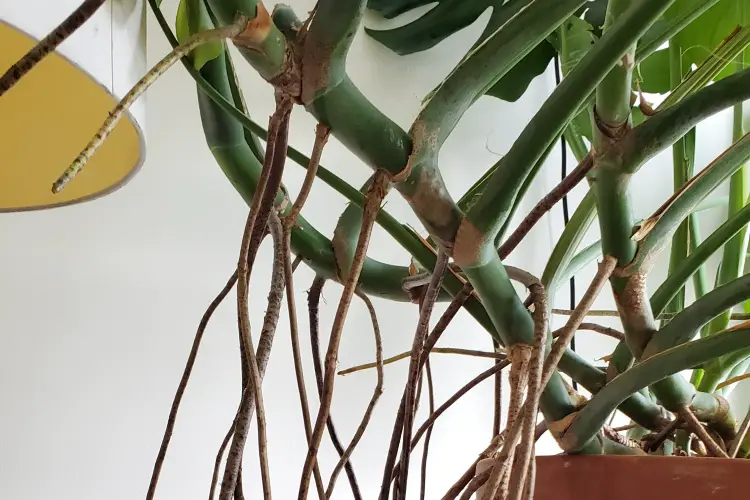 Aerial roots are, as the name says, roots that grow not in the soil, but in air. They grow on plant stems above the soil.
Many plants grow aerial roots – monstera, pothos, philodendrons, rubber trees, ficuses and other plants.
Benefits of aerial roots (What's their purpose?)
The purpose of aerial roots is the same as regular roots:
To stabilize a plant, but instead of stabilizing the plant in the soil as soil roots do, aerial roots help anchor a plant to trees or other structures and help it climb. In nature, a lot of vining plants use these roots to climb trees, so they can reach higher points in the canopy with more light. One example would be a monstera plant.
Another purpose of aerial roots is to help absorb moisture and dissolved nutrients from the rainwater running down the roots and trees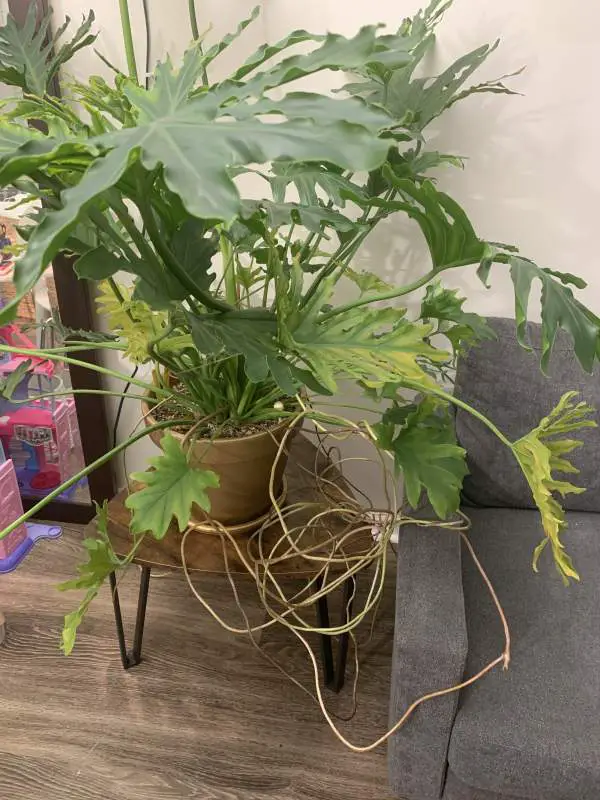 So aerial roots are great in nature, they must be very helpful indoors as well?
Since there is no rain indoors, aerial roots in our homes do not perform the function of moisture and nutrient absorption. But they are useful if you want your plant to climb up a moss pole or a trellis.
Aerial roots can also be helpful with propagation. When you take a cutting, take one with an aerial root, it will make propagation easier, as most aerial roots are very likely to continue growing in water or soil.
Which plants can have aerial roots?
Many plants can have aerial roots – Monstera Deliciosa, Golden Pothos, many philodendrons, Rubber Tree (Ficus Elastica), Fiddle Leaf Fig (Ficus Lyrata), succulents (Echeveria for example) and many other plants.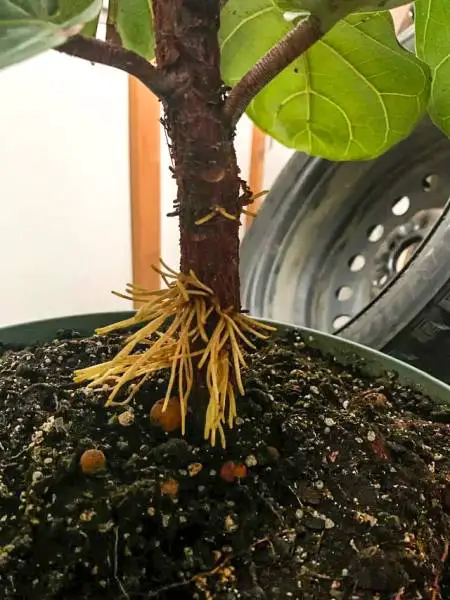 Why does my monstera have so many aerial roots?
Aerial roots on monstera plants are not uncommon for this plant, especially if the conditions are right – high humidity, warm and bright. This is because the plant is a climber, and these monstera's aerial roots help it to attach itself to surfaces and climb upward. The aerial roots can also help the plant to absorb moisture and nutrients from the air when outdoors. Indoors the aerial roots don't serve much of a purpose, besides climbing.
My plant doesn't have aerial roots. Is there something wrong with it?
Absolutely not! A pothos might grow aerial roots in one person's home, but not in another. They are not an indicator of health. If your plant doesn't have it, that is nothing to worry about.
There are a lot of discussions in the horticultural community on what exactly causes aerial roots to grow in different plant species. One of the factors discussed is humidity. High humidity and greenhouse-like conditions seem to be favorable for the growth of aerial roots.
Top 5 tips for dealing with aerial roots (what can you do with them)
Here are the top 5 tips for dealing with these aerial roots:
 Depending on the plant and the size of the aerial roots, I often like the way aerial roots look like. If you feel the same, you can leave them and let them grow. You can mist them if you like, but you don't have to do it.
You can also put them in soil, so they can continue to perform their function – absorb moisture and nutrients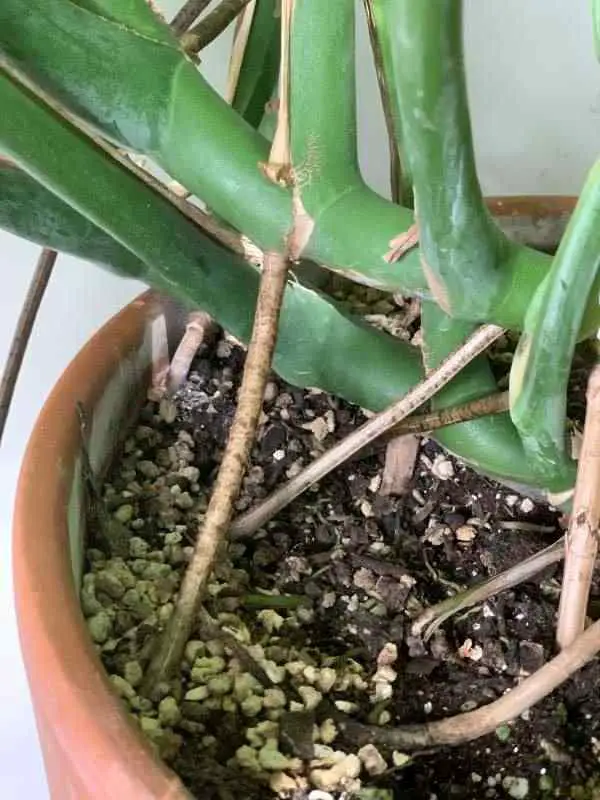 Some people find aerial roots unsightly. If you're one of them, feel free to simply cut them off. You will not harm the plant. In the same way that pruning of soil roots will not harm your plant (and actually promotes root branching), pruning of aerial roots will in no way harm your plant. If you want to remove them fully, cut them as close to the main stem as possible. Even though I usually don't sterilize my pruning shears, doing so is the best practice as it reduces the chances of the wound getting infected. You can use hydrogen peroxide for sterilization or rubbing alcohol. Perhaps you like the way aerial roots look, but they are getting too long. In the case of very long aerial roots, trim them, and reduce their length to what works for you and your space. Again, you will not be harming the plant. Don't worry, they will continue to grow.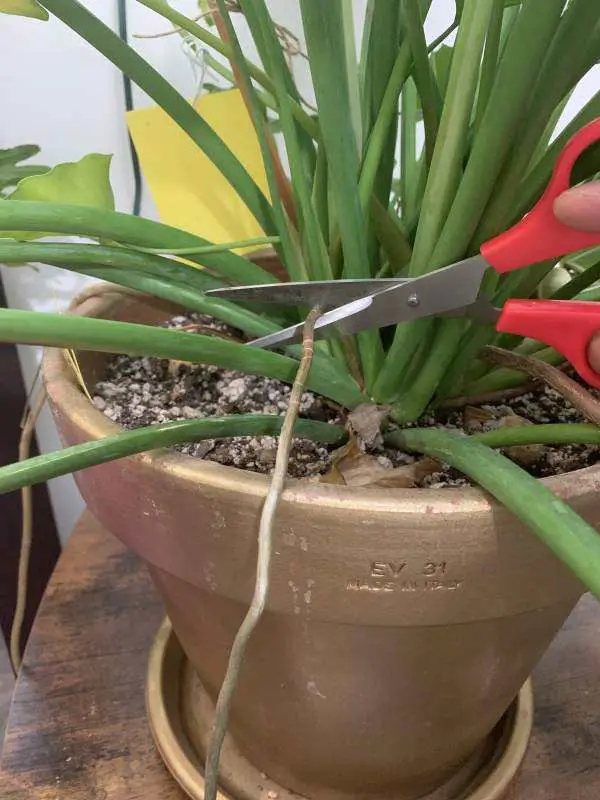 There are some exceptions to root trimming, such as orchids. Do not trim orchid roots. Orchids are epiphytes, in nature, they live attached to trees with their aerial roots. All orchid roots in our homes are in fact aerial, regardless of some of them being in bark or sphagnum moss and others being suspended in the air.  If you cut an orchid's aerial roots, you would be removing roots that are essential for the plant to absorb moisture and nutrients. Orchids also often don't have the density and length of roots that non-epiphytic plants have, and every healthy root will help them with moisture absorption and will assist them to start growing stronger. It's also believed that orchid roots possess the ability to photosynthesize, which is another reason to leave them.
Some people put aerial roots in a vase with water or bury them in another pot. While I personally don't find this practical, as another vase or a pot takes up additional space, you can do it. The roots should absorb water from the new vase or pot. However, you could achieve the same effect by putting the aerial roots in the same pot as the plant.
How do you train aerial roots on monstera?
If you want to train your Monstera's aerial roots, you'll need to provide it with a support structure to climb. You can use a trellis, a wire mesh, or even just tie the plant's stems to something nearby. Once the plant has something to climb, the aerial roots should begin to attach themselves to the support.
Can I propagate an aerial root?
Generally no, you can't just take an aerial root and put it in water or soil and expect to get a new plant. Roots generally don't contain the cells needed to produce a new plant on their own. If you would like to propagate a plant with aerial roots, take a cutting with a node and one of the aerial roots. There are some exceptions to the rule, plants that can be propagated from just a section of the roots. One example is figs.
Will aerial roots grow back?
Yes, unless there is a change in the plant's environment or care routine, aerial roots will usually grow back after some time.
What do you do with air roots when repotting orchids?
When repotting orchids, keep the air roots intact, do not cut them off. Unlike other houseplants, aerial roots are essential for orchids. If you want, you can put them in the potting medium (sphagnum moss, bark), as this will make it easier for them to get moisture. Other plants have soil roots to obtain water and nutrients, but orchids only have aerial roots, so removing them would reduce their ability to absorb moisture and nutrients.
Can I put aerial roots in soil?
Yes, you can put aerial roots in soil. By doing that the aerial roots will continue to grow in soil and will now have a purpose – to absorb water and nutrients. While they are suspended in air, due to lack of rain indoors they aren't able to absorb moisture (unless you are regularly watering or misting them), so they don't have much of a purpose.
Can i put aerial roots in water?
If you want to put your aerial roots in water, you can do so, but it's not necessary. If you put these roots in water, they will continue growing and will start absorbing water from the dish they are in.
I hope you found this post helpful. Leave me a comment if you have any additional questions.
Scroll all the way down and subscribe to my newsletter to be the first to receive my houseplant tips!